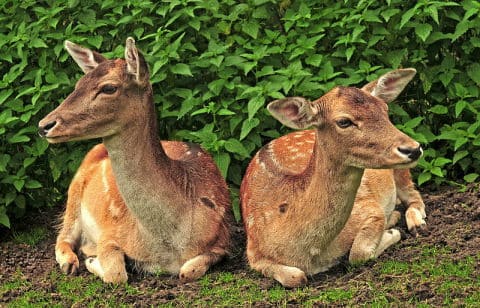 Chronic wasting disease can have infection rates of 79% in captive deer herds.

Nearly 80% of white-tailed deer are infected with the meningeal worm in endemic regions.
Zuku's Top 6 Cervid Conditions To Know For NAVLE® Success:
Images courtesy of Michael Gäbler (Fallow deer), Joel C. Watts (CWD histopathology), CDC (CWD map), Mad Max (snail), US Fish and Wildlife Service/Jim Leupold (elk), Alan R. Walker (biting midge), Fourrure (bluetongue in a sheep), Livestock Industries, CSIRO (bluetongue TEM), David Risco/PLOS ONE (TB lesions in a wild boar), CDC/George P. Kubica (Mycobacterium microscopy), Wildlife Alaska (brucellosis in caribou), USDA (location of obex and sheep), Fry1989 (deer crossing sign), and Martin Falbisoner (red deer at top).