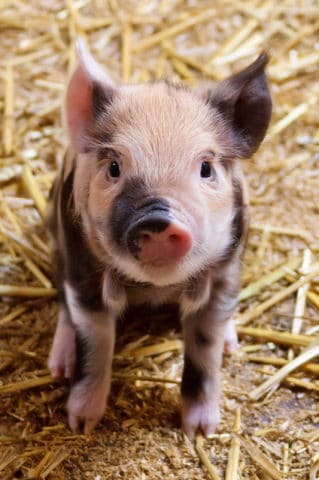 Which pig diarrhea costs nearly $1.8 billion per year in losses?

Neonatal diarrhea is a classic topic for NAVLE® questions.
Zuku's Top Piglet Diarrheas To Know For Boards Success
Categorization of piglet diarrheas
Diseases that are particularly characteristic are denoted with an asterisk

TYPE of diarrhea?

Hypersecretory:

Usually bacterial
Diarrhea tends to be watery, white, or yellow in color with an alkaline pH
Causes rapid dehydration

Malabsorptive:

Usually viral
Caused by inability to absorb certain nutrients (unabsorbed lactose is converted to lactate by normal GI bacteria, typically causing acidic diarrhea)
If proximal intestine affected, diarrhea can be voluminous and pasty
If distal intestine affected, diarrhea tends to be frequent and watery

WHO gets it? Piglet diarrheas are characterized by age of occurrence

Age of onset:

Newborn:

*C. difficile
Isospora suis (coccidiosis)

7-14 d old:

*Coccidiosis
Strongyloides ransomi (threadworm)

Second half of lactation:
Weanling:

E. coli
Rotavirus
TGE
Campylobacter

Grower-finishers:
All age groups:

Salmonellosis
TGE
Porcine epidemic diarrhea
DISTINGUISHING characteristic?
Sudden outbreak affecting many litters?
Vomiting?

*TGE
Porcine epidemic diarrhea

Hemorrhagic diarrhea?

*C. perfringens type C
E. coli
Threadworm
Proliferative enteritis
T. suis

White scours? Think E. coli
Creamy diarrhea?
Watery, pasty diarrhea?

*Proliferative enteritis
Coccidiosis
Salmonellosis
C. difficile

Mucohemorrhagic diarrhea?
Profuse, watery diarrhea in piglets less than 7 d?
Rectal stricture? Salmonellosis
The top piglet diarrheas


Loose feces dribbling from the anus in a case of swine dysentery.
Image used with permission, courtesy of The Pig Site

Sloppy diarrhea due to porcine proliferative enteritis.
Image used with permission, courtesy of The Pig Site

Classic case:

All causes:

Diarrhea, dehydration, lethargy, weakness
Decreased nursing/appetite
Piglets huddling together, shivering
Piglet found dead
+/- Colic and vomiting

2-10 d old: C. perfringens type C:

Hemorrhagic diarrhea
Sudden onset, high mortality

Less than 3 wk old: TGE:

Profuse, watery diarrhea
Spreads rapidly
Vomiting
High mortality

5 d - 3 wk old: Rotavirus:

White/yellow diarrhea
Self-limiting, rarely fatal

7-16 wk old: Swine dysentery:

Mucohemorrhagic enteritis
Anorexia, dehydration, emaciation
Poor growth rate

Weaned and older; esp. growing-finishing (40- 80-lb): Porcine proliferative enteritis:

Abdominal distention
Scrotal edema
Subclinical: Weight loss
Acute: Hemorrhagic diarrhea
Chronic: Diarrhea, wasting

Healthiest pigs 1-2 wk after weaning: E. coli:

Watery diarrhea
Severe, acute
Peracute death
+/- Neurologic signs
+/- Vomiting

All age groups: Salmonellosis:

Nursing pigs: Foul-smelling diarrhea, death
Older pigs: Foul-smelling diarrhea, fever
Septicemia
Red/purple discoloration of ears and ventral abdomen
Chronic enteritis, rectal strictures

Dx:

Etiologies:

C. perfringens: Anaerobic, gram-positive; releases beta toxin that causes villi necrosis in the upper jejunum
Enteric colibacillosis: Enterotoxigenic E. coli that produces Shiga toxin
Porcine proliferative enteritis: Lawsonia intracellularis, an intracellular, gram-negative rod-shaped bacterium
Salmonellosis: Most common is Salmonella Choleraesuis kunzendorf
Swine dysentery: Brachyspira (Serpulina) hyodysenteriae, an anaerobic spirochete that elaborates a hemolysin
TGE: Coronavirus that affects the jejunum and ileum

PCR feces (enteric colibacillosis, TGE, swine dysentery)
Culture feces (salmonellosis, enteric colibacillosis)
Toxin analysis (ELISA) on feces (C. perfringens, rotavirus)
Direct smear of colon scraping (swine dysentery)
Latex agglutination for antigen in feces (rotavirus)
Necropsy (IFA: porcine proliferative enteritis)

Rx:

Bacterial: Antibiotics
Add electrolytes to water
Heat lamp
Shavings/straw/bedding in pen to absorb
Preventive measures for piglets:

Use all-in-all-out
Maintain farrowing facility in top shape: Clean, dry, warm, good ventilation, proper density, low stress, sanitize in between
Antitoxin: C. perfringens
Prophylactic antibiotics
Vaccination: Coronavirus, Salmonella
Good biosecurity
Don't skimp on heat lamps! Cold piglets are a big risk factor!
Ensure adequate colostrum in first 12 h

Preventive measures for dams: Increase immunity

Acclimate new dams for 3-6 wks prior to breeding
Vaccination: E. coli, C. perfringens, rotavirus, coronavirus
Feed them farrowing house waste (TGE, E. coli)
Purchase single-source breeding stock that is disease-free

Pearls:

Zoonotic!

Salmonellosis
Clostridiosis
E. coli
Spotlight on TGE


Classic case:

Naïve herds:

Vomiting!
Profuse, explosive, watery diarrhea
Increased drinking
Nursing piglets:

Diarrhea with undigested milk curds
Shivering
Almost 100% mortality in piglets less than 1 wk old

Sows:

Endemic herds: Depends on immunity and exposure

Variable vomiting and diarrhea
Piglets show signs as maternal antibodies wane

Dx:

Etiology: Highly contagious enteropathic coronavirus (closely related to porcine respiratory coronavirus) that is shed in high numbers in feces
Presumptive based on clinical signs
Necropsy:

Distended, thin-walled small intestine with villous atrophy
Fluorescent antibody or immunohistochemistry on small intestine

PCR on feces from live pigs

Rx:

Supportive care
Increase farrowing room temperature
Provide electrolyte water
+/- Administer swine immunoglobulins
Wean older piglets to reduce mortality
Prevention: Need IgA in small intestine

Vaccinate sows to protect neonates
Feed TGE-infected small intestinal tissue to pregnant sows 2-4 wks prior to farrowing
Susceptible to iodine-based disinfectants, quaternary ammonia, and peroxygen compounds
Maintain closed herd
All-in-all-out, strict biosecurity

Pearls:

Most often occurs in colder months
Very short incubation period: 18 h - 3 d

NEWS FLASH: Important emerging disease!
Porcine epidemic diarrhea


Classic case:

Type I:

Growing pigs
Acute, watery diarrhea (no blood or mucus)
Abdominal pain
+/-Vomiting

Type II:

All ages, from suckling piglets to mature sows
Watery diarrhea
Mortality in neonates is about 50%

Dx:

Etiology: Coronavirus unrelated to TGE coronavirus, but more similar to the feline infectious peritonitis virus
Clinical signs can be difficult to distinguish from TGE
Necropsy:

*Acute necrosis of back muscle
Distended small intestines filled with yellow fluid
PCR +/- direct immunofluorescence of small intestine or colon
ELISA on feces is useful in older pigs

Rx:

Supportive care
Increase farrowing room temperature
Provide electrolyte water
Withhold feed from finishing pigs for 1-2 d
Prevention:

Planned sow herd infection
All-in-all-out, strict biosecurity

Pearls:

Initially seen in the United Kingdom in 1971; first confirmed in U.S. on May 17, 2013 in Iowa swine
Causes an estimated annual economic impact of almost $1.8 billion in the U.S.
The coronavirus is spread by fecal:oral transmission and by fomites

Images courtesy of Petr Kratochvil (cute piglet at top), Juan Lacruz (normal feces), L. Mahin (yellow diarrhea), Joy Schoenberger (1-3 d piglets), CDC (C. perfringens), Keith Weller/USDA (sow and piglets under TGE), NIH (coronavirus), US Government Accountability Office (porcine epidemic diarrhea map), and woodleywonderworks (bottom suckling piglets).