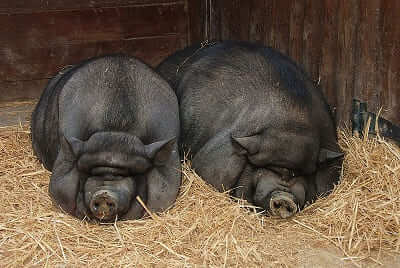 Only 6% of NAVLE® test questions cover pigs.

Guess which NAVLE® topic stresses vet students out the most? "PIGS"
5 of Zuku's Top Pig Conditions To Know For Boards Success:
Images courtesy of Alvesgaspar (pot-bellied pigs), R.L. Wood (erysipelas lesions, Erysipelothrix colonies, synovitis), Dingar (pig with blue ears), USDA (turkey egg kidneys), Glen Bowman (pig snout), Jacqueline Macou (sow with mammary development), Naeemakram319 (wheat), woodleywonderworks (suckling piglets), Evelyn Simak (Kune Kune pig), and CDC (C. perfringens).