Subscribe to NAVLE Question of the Day:
A tourniquet was placed at mid cannon bone on this cow's leg.
Lidocaine is being injected in the dorsal pedal vein.
What is expected to happen?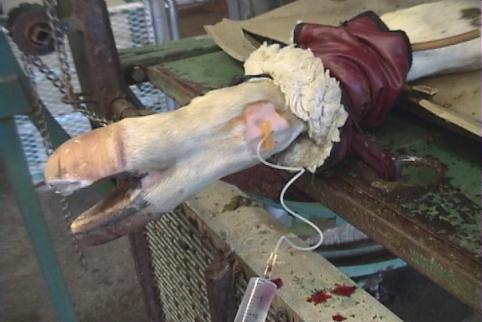 A -

Anesthesia distal to tourniquet


B -

Bradycardia with gradual tourniquet removal


C -

Anesthesia only from mid-pastern to the toe


D -

Cessation of atrial fibrillation after tourniquet removal


E -

Anesthesia only of skin in the region of the injection




---
You chose A, the correct answer!
---
Anesthesia distal to tourniquet.
This is an example of intravenous regional anesthesia, the anesthetic method of choice for most bovine digital surgical procedures.
It has similar results to a nerve block, but is easier to do with reliable results.
You need only one injection and no special knowledge of anatomy.
2% Lidocaine infuses down the venous system and anesthetizes the entire lower limb distal to the tourniquet within about 10 minutes.
The amount of lidocaine needed is typically 10-30 ml and should not exceed a total dose of 9 mg/kg.
Do not keep a tourniquet in place more than one hour.
Some references call this a "Bier" block, after the pioneering German physician August Bier, who reported on this form of anesthesia in 1908.
Refs: Guard, C, Musculoskeletal Disorders, in Disease of Dairy Cattle, Divers & Peek, 2nd ed. pp. 476-477, Pasquini and Spurgeon's Anatomy Dom An 11th ed. p. 497, Image courtesy Dr. Lisle George